Dog Training & Behavior Tips by Rich
The most important elements of training a dog are trust and cooperation. Demanding "strict" obedience tends to reduce trust and cooperation.

We all must find our own logical boundaries, what makes sense and seems fair and what makes that tail wag more often.

Modern training breaks training issues into smaller, more manageable increments, allowing us to understand and move behavior far more carefully.

There are many training choices out there and you should pick a training program that fits your own logical viewpoints. I have listed many of my Northern NJ dog training competitors, for your convenience. Their placement does not they recommend my training program or Hidden Fence products. 🙂 Still, these are reputable trainers with a wide range of methods.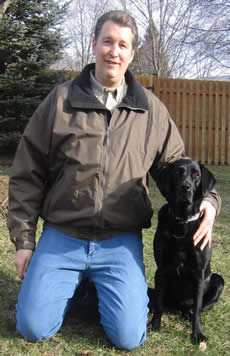 Training Tips by Rich: Dog Behavior and Dog Training.
Owner Rich Weinssen talking puppy reinforcement training in 2002 – clicker training the whole family!
Owner Rich Weinssen play training with Gigi.
Rich presenting the Industry's first documented low pressure introduction Triple Crown Academy, Austin, TX.
Cole and Angel Voynick were early adopters of positive reinforcement training.