How Our Hidden Pet Fencing Works
So, how does a hidden dog fence work?
Hidden Fence Company uses a combination of technology and training to teach your pet to avoid the edge of the yard, gardens, pools, couches, rooms or any other area you want your pet to avoid. The easier your chosen layout is to remember, the less mistakes your pet will make. Following property lines or landscaping helps your pet remember the boundaries.
A Sample of our Outdoor Pet Containment Layouts
This first layout is by far our most common pet containment installation. The benefits are that your pet is protected from unexpected escapes from any doorway as well as having freedom to play in your entire yard.
Hidden Fence Company recommends keeping dogs at least 10′ from sidewalks as a neighbor friendly practice. We will give advice, but install the fence wherever you direct.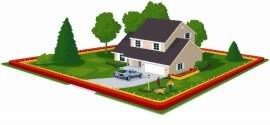 This layout encloses the entire yard
This second layout is very common also, sharing all benefits of the perimeter loop, yet if you let your pet into the backyard, the side yards are blocked.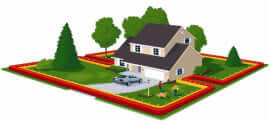 This layout blocks the side yards
The Double Loop – back yard or front yard layout:
This third layout requires us to run two wires in the back yard and it can be done for back yard or front. Some of your doors will be unprotected, as only one side of the house will be blocked.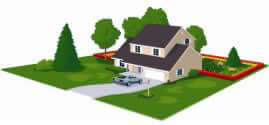 This layout encloses the front OR backyard only
The Pet Fence Training – Making sure your pet knows their boundaries
Pet containment training is an important part of the experience.
We offer onsite training with certified trainers and ongoing phone support to make it easy to train your pet to the fencing system. You can train as many pets as you want on the same system. Each dog needs a Micro-Programmable receiver collar. Training takes between 7 and 14 days on average.

Our modern, gentle training program will help your pet first learn the boundaries and then…to avoid them. Marking flags are placed around the perimeter to offer your pet a visual cue to help recognize the new boundaries. These flags are paired with a tone warning, and an electronic correction. The level shock is adjustable for different personalities, temperaments and breed characteristics.

A tiny receiver worn on your pet's collar picks up the coded radio signal and issues either a warning and or an immediate electronic stimulation (depends on chosen settings) to teach your pet to avoid the boundary.

Shock is shock, and if you hear other companies sugar coating it…well, keep in mind: Your pet must not like the sensation at all and must be seriously interested in avoiding it. Our program will focus on the positive aspects of training, and we will help you use very little correction in the training process.
Purchase Replacement Batteries Here
Purchase replacement batteries for your Pet Stop® receiver collars.

Invisible Fence® compatible batteries are also available!

Hidden Fence Company is the exclusive authorized Pet Stop® dealer for Northern NJ Counties Bergen, Essex, Hunterdon, Morris, Passaic, Somerset, Sussex, Union and Warren.

If you live outside of our service area, please visit the Pet Stop® website to find your authorized local Pet Stop® dealer.