Includes:
FOUR coin cell batteries (they look like a quarter)
compatible with following dog fence receivers:
P4, RL1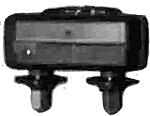 These are the ONLY flat, coin-looking batteries we have ever offered. Batteries have a 10-year shelf life.
2 batteries are needed per collar – be sure to insert them with + polarity both facing the same way.
DOES NOT INCLUDE BATTERY CAP